Great Start Collaborative in Ottawa Area
Great Start Collaborative-Ottawa Area, in cooperation with the Michigan Department of Education and the Michigan Office of Great Start, connects parents, social service agencies, individuals, health care professionals, childcare providers, educators and more with unique community initiatives. Working together to create an ecosystem in our county for children to grow up healthy and ready to succeed. The Great Start Collaborative is like an ever-expanding "kitchen table" where all are welcome to join on behalf of our children prenatal to 8 years old.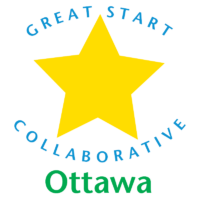 Mission
Great Start Collaborative-Ottawa ensures a coordinated system of community resources and supports in order to assist all Ottawa Area families in providing a great start for  children prenatal through age 8.
Ottawa Area Child Poverty Statistics*
9.7% ages 0-17 are living in poverty.
34% are eligible for free or reduced-priced lunch.
9% have been the confirmed victims of child abuse/neglect.
*according to the 2014 KIDS COUNT data center
How Does Great Start Collaborative-Ottawa Area Work?
Parent Coalition: Local parents & caregivers in communities around the county
meet to determine ways to support all families and children in their own
neighborhoods. At these meetings, parents connect with each other, share
community resources, explore parenting topics, and learn leadership skills.
(Groups in English and Spanish)
Great Start Collaborative Group: This large group meets to learn from each other,
discuss what is going well, where to make improvements, and where partnerships
can benefit families.
Executive Committee: A steering committee for the Great Start Collaborative.
Staff: Collaborative Coordinator or Parent Liaison.
Work Groups: Each group addresses one of the Ottawa Area Community
Initiatives: Medical, ASQ, Early Childhood Experience, Early Literacy.