Literacy Supports for Your Child
Video created by DC Public Library.
Did you know communities in Ottawa County have many ways to help families talk, read, sing and read to children prenatal to age 5? It's never too early to start! Studies show children who hear words through conversation, singing, reading is more likely to be ready to succeed in school!
Click the images below to download the Talking is Teaching handouts.
NEA 2023 Mini Read Lakeshore
The More We Get Together & Little Read Lakeshore – Change Sings
For all the information and events: Little Read Lakeshore
Calendar of all the events! Play N Learns in Ottawa will be giving away and featuring the Mini Read book!
2023 Zeeland Community StoryWalk®
Everyone has a rhythm inside and as we experience each day we can move our bodies,  feel positive energy, and find joy in catching the rhythm with those around us. Reading through "I Got the Rhythm" by Connie Schofield Morrison
2022 Little Read Lakeshore: Last Stop on Market Street
"Last Stop on Market Street" will be read through the lens of "everyday heroes," with the Little Read exploring what it might look like for readers to be heroes in their own communities and daily lives.
2021 Little Read Lakeshore: Fry Bread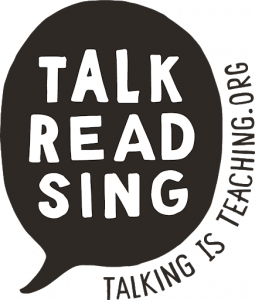 Talking Is Teaching
Talking Is Teaching is a national public awareness and action campaign that helps parents recognize their power to boost their children's early brain and vocabulary development through simple, everyday actions – like describing things while walking outside, or singing songs together during bath time.
When you talk, read, and sing with your child—even before she can use words—you're building her brain and helping to prepare her for success in school and in life.
But it may not always be easy to talk to babies and young children, especially when they can't talk back. To help, we've pulled fun tips and resources grounded in the best science, to help you talk, read, and sing with your child every day.
National Talking is Teaching Resources
Free Books!
Looking to give back? Donate books/ Amazon list
How do I donate gently used books to other families? Individuals: To donate books to be given away free to families, please email Monte Kelly mkelly@oaisd.org or for little free libraries…..
Buy a NEW book to donate- Amazon wish list- books given free to families.
Tips: Your Child's Reading Behavior
Tips for talking, reading, and singing with your child—keep it simple & keep it up!
Parents and other family members are the most influential people in your children's lives.

When you talk, read and sing– your child pays attention!

Wherever you are, interact with your child by asking questions and pointing out what is happening around you, asking them what they see, expand on their words with more words.




Ex. Child: Red truck/ Caregiver: Yes, it's a big, red, dump truck with wheels and a cab for the driver.

Children love singing! Try singing your words and sentences with a made-up tune to catch their attention.

Your local community has many

free

opportunities to help support you and your child's development. Check out your local library and free little libraries (see links below) for free storytimes, books, and events.
For more tips:

Join us for Story Walks!
Summer Reading Programs are underway! Feel free to sign up for multiple programs
Connect with further school readiness resources near you. High Quality Childcare & Preschools, Parent Groups, and a Developmental Screening with free fun activities to promote literacy!