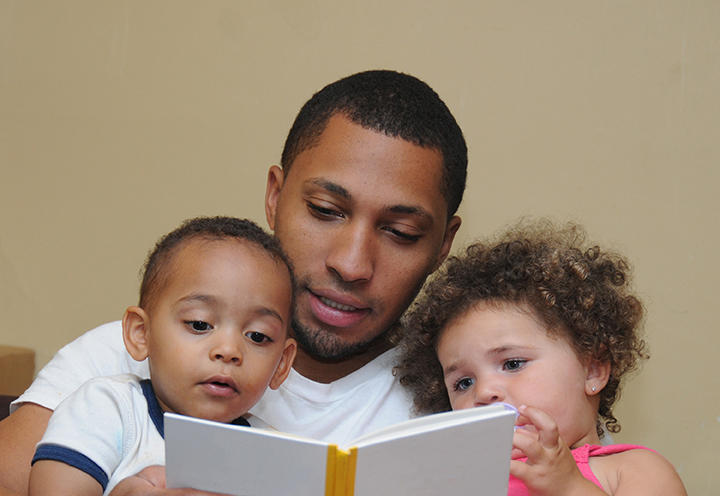 Written by: Adrienne Baker, Youth Librarian, North Branch, Herrick District Library
How on earth do you expect me to read to this squirmy little human?
One of the most common worries we hear from caregivers here at the library is, "My child just doesn't have the attention span to listen to me read books, yet." Sound familiar? We get it. You plop the baby on your lap, open a book, and then that sweet little cherub starts "helping" you turn the pages, and five seconds later, the book is slammed shut, and baby is off to explore something shiny! But here's the thing: This question of attention span, in and of itself, reflects a flawed understanding of what we have been conditioned to see as successful reading time. It's not all about training children to listen quietly while the grownup methodically reads a book out loud from cover to cover. Sure, that may happen sometimes, and that can be a beautiful thing, too! But that's not step one.
Baby steps!
Babies don't have an instinct that tells them how a board book works. We know we need to talk to babies to help them see how language works, and we know that the more we happily talk to them, the more meaning they start to glean from those sounds coming from our mouths. Babies catch onto the emotion behind our words well before they can articulate anything back to us. The same is true for reading. Start small! Read to baby while he plays. When baby flips those pages for you, ignore the words you can't read fast enough, and make up a silly story. Make reading into a loving, joyful experience. There will be books you start and never finish. I'm here to tell you that's fine.
Focus on the moment, not the book
When you crack open that book, your curious little one might need some help seeing what's so special about it. Why is this papery thing in your hand deserving of their attention when there's a perfectly good never-ending-noise-making-battery-operated toy waiting in the other room? Be silly and animated about the book! Sell the experience! Start pointing out what you see and make eye contact with baby while you do it. Turn it into a game of peek-a-boo. Tickle baby after each silly page turn. Maybe you'll read some of the words on the pages, but maybe not. I'm going to say it again. That's fine!
Lather, rinse, repeat
Day after day, continue to show off how fun books can be, and I bet you'll start to notice a difference in how your child interacts with them. Over time, baby will start associating that reading time with giggles, hugs, play, and cuddles, and that's the space where the magic happens. The warm and happy feeling of reading is far more important to factor into a child's early literacy development than the exhausting skill of sitting still while listening.
A few concrete pointers
High contrast books, like the ones with black, white, and red illustrations, are great options to assist in the eye-tracking and development of infants. Hold books between six and eight inches in front of your baby's face. That's about the same distance as when they are looking up at you during feedings! Don't be afraid to sprinkle in some of your own reading. Go ahead and re-read Little Women for the twelfth time and feel free to read some of it out loud while you cuddle that baby.
Don't give up, caregivers! Of course your child doesn't have the attention span to sit and listen to a whole book! That's fine. I bet they have plenty of focus to direct towards a caregiver (who happens to be holding a book) showering them with affection.